The New Volvo XC40 | Near Burlington, VT

Volvo XC40: Perfectly Refined and Sophisticated
Volvo enthusiasts expect luxury from any model in the lineup. The XC40 has a sophisticated interior and a striking exterior that perfectly aligns with the expectations of many shoppers in the Shelburne area. There is plenty of engine power to impress the most discerning driver. The best part is having a selection of trim levels and picking one that delivers everything you want.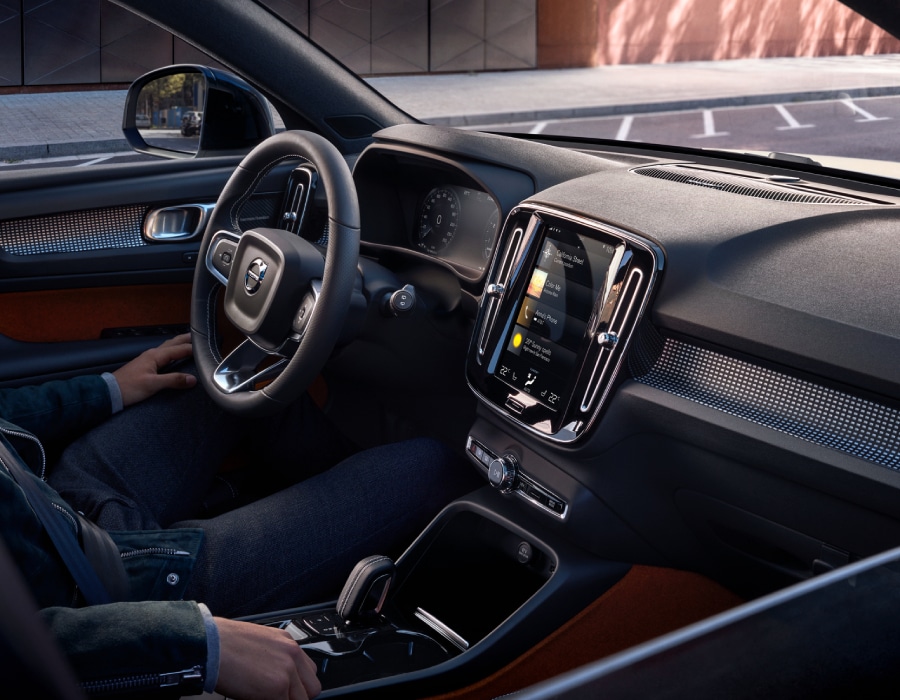 Interior
Many Burlington, VT, drivers feel the passion for the Volvo XC40 is understood the moment you step inside. Premium quality materials like leather seats and a crystal gearshift elevate this SUV in ways you cannot imagine without seeing it in person. The detail given to every square foot of the interior produces a compelling elegance. Occupants of the XC40 enjoy sheer comfort in models with dual-zone automatic climate control. The available panoramic moonroof enhances the ambiance of the interior. This Volvo SUV has 20.7 cubic feet of cargo space behind the back seats and 57.5 cubic feet when you fold the front seats. It's an ideal vehicle for anyone who engages in recreational activities like golf and camping. You can transport the gear you need with ease.
Exterior
Chic and handsome are two words that come to mind when you see the Volvo XC40 for the first time. The exterior design of this SUV is aerodynamic. The windows and body panels reduce the drag from the air. Each element conspires to produce a vehicle with a modern appeal, including LED headlights, a unique grille, door handles that light up, and alloy wheels. The taillights also have an innovative design. Onlookers are enamored by how the XC40 looks. It's often the most attractive vehicle in parking lots across Essex, VT.
Performance
You would be hard-pressed to find anything negative to say about the performance of the Volvo XC40. That's because every model has a top-notch powertrain. The T4 base model contains a four-cylinder, 2.0-liter, 197-horsepower engine that makes 221 pound-feet of torque. It gets 23 mpg in the city and 32 mpg on the highway. The T5 is also a four-cylinder, 2.0-liter engine, but it generates 248 horsepower and 258 pound-feet of torque, paired with an eight-speed automatic transmission. The fuel economy for this engine is 22 mpg in the city and 30 mpg on the highway.
Volvo XC40 Performance Options
New for 2023, the Volvo XC40 offers two distinct powertrain options that both feature mild-hybrid technology. With the B4 you'll have a 2.0-liter turbocharged mild-hybrid setup that offers 197 horsepower and 221 pound-feet of torque. And with the B5, you'll get a more powerful 2.0-liter turbo mild-hybrid delivering 247 horsepower and 258 pound-feet of torque.
Volvo XC40 Trim Levels
The trim level designations are changing in a big way, so you'll have a whole new way of designing your ideal Volvo XC40 when you visit our Shelburne dealership.
Visual trims are now Core, Dark, and Bright. Core uses brushed silver accents while Bright polishes them to a mirror-chrome finish. And with Dark, those exterior trim pieces are covered in gloss black for more elegant and modern look.
Equipment tiers are changing as well, with Core, Plus, and Ultimate packages making up the three options for your new Volvo XC40.
With the Core XC40 models you'll get:
Google Maps and Google Assistant Voice Technology
Blind-spot monitoring
Power liftgate
Rear cross traffic alert
Jumping into the Volvo XC40 Plus earns you:
Front and rear park assist
Power-sliding panoramic moonroof with sunshade
Driftwood trim
Adjustable thigh extensions
Cargo area power outlet
Finally, the Volvo XC40 Ultimate includes upgrades like:
360-degree camera
Adaptive Cruise Control
Pilot Assist Semi-Autonomous Drive mode
Harman Kardon Premium Audio with subwoofer
By combining your preferred powertrain, exterior trim, and equipment package you can create your ideal Volvo XC40 model without compromise. And when you visit Almartin Volvo from Burlington or Colchester, our team will let you test drive a Volvo XC40 before we help you craft your ideal build with a Volvo custom order.