With the annonucement of Intellichoice's 16th annual ranking of manufacturer-sponsored CPO programs for 2016, Volvo, once again, has placed first among Premium manufacturers.  Volvo Cars of North America's "best-in-class" Certified Pre-owned Program has now been ranked number one in the Premium segment by Intellichoice for the last 3 consecutive years from 2014-2016. Contributing to Volvo's extraordinary successful run is the rigorous attention given each CPO vehicle. Every CPO Volvo benefits from a demanding 130-point Volvo certified inspection. As well, in 2013 the CPO offering was strengthened to a 7-year/100,000 mile warranty coverage. CPO eligible vehicles will now include MY 2011 through MY 2016.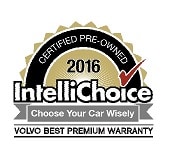 ---
Looking for the Latest and Greatest Volvo Models?

Get Nothing Less than the Best at Almartin Volvo, serving Shelburne, Burlington, Essex, and Plattsburgh!
With so many Volvo models to choose from, you're sure to find the ride of your life here at Almartin Volvo in Shelburne, VT. Whether you're from the Shelburne, Burlington, Essex VT, or Plattsburgh NY, our friendly staff members are ready to give you an excellent car-buying experience like nowhere else.
When your interests point towards a new 2016-2017 vehicle, then our selection of new Volvo models will impress drivers of all types. With popular models like the new S60, S80, S90, V60, XC60, XC70, and XC90, your smile will spread from ear to ear. Take your time perusing what's available, compare and contrast, and contact us with any questions you may have. For a close-up look, we'll even schedule a test drive at a time that works for you.
Lower budget doesn't mean lower quality when you shop with Almartin Volvo, and our lineup of used vehicles is active proof! With high-quality and reliable makes and models of all kinds to choose from, any driver with any preference is bound to discover just what they've always been looking for. Selected for their quality and tested to assure it, you'll find nothing less than the best.
Get a Financial Solution that Meets Your Need with Almartin
Volvo
Whether you've decided to lease or own your chosen new 2016-2017 Volvo vehicle, you can talk to the experts at our financial center and get assistance with a payment plan that meets your budgeting requirements. Your wallet can breathe a sigh of happiness while you cruise down the street in your new ride, confident with your decision and ready to take on the road no matter where it may lead.
No matter where you live, be it Shelburne, Burlington, Essex VT, or Plattsburgh NY, your car's health is important all year long. Should your beloved Volvo demand some routine maintenance or more intricate repairs, the professional technicians at our service center will make short work of your automotive woes with deft hands and well-trained expertise. Using only certified Volvo parts to repair your vehicle with, you'll be back in tip-top shape in no time.
Being a Almartin Volvo customer is more than just buying a vehicle; it's about becoming part of the family and, you should know, this family will always be at your side. To experience the excellent service and automotive care for yourself, come in to our 85 Executive Drive, Shelburne, VT location and prepare to be amazed. Call us today at (800) 639-5088.